Patient Information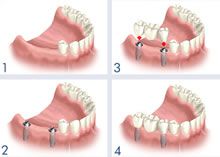 Welcome!
Imagine how much better your life will be when you have new teeth that not only look natural, but will also allow you to enjoy a normal life again.
For thousands of people unstable dentures make chewing and speaking difficult. Conventional dentures can also impair the ability to taste foods that used to be enjoyed. There is no reason to live with these problems anymore.
For more than 20 years implants have been a proven alternative to conventional bridges and dentures. Implants allow you to eat, talk and laugh with confidence again and to have a better quality of life.
We can help you:
Dental implant placement is a surgical procedure that is similar to having a tooth removed. After a thorough exam, appropriate x-rays and treatment planning, the implants are placed in the jawbone under local or, if desired, general anesthesia. Due to advancements in grafting techniques, patients that have lost a lot of bone over the years and were not candidates for implants in the past can now have their jaws rebuilt to receive implants.
Many qrafting techniques were developed by our staff, and our hospital is wordlwide recognized as a high qualified center for bone grafting procedures. Because your wishes and satisfaction are our main concern, patients at our clinic receive constant attention by our qualified team before, during and after treatment.
When is an implant an option?
Succesful nimplants are not only clinically well tested but also practically well developed:
After loss of a single tooth (for example if a tooth is knocked out in an accident)
To replace missing back teeth (on one or more teeth)
To support a bridge when several teeth in a row are missing
To support or retain a bridge or denture when all the teeth are missing
In conjunction with grafting to restore jaws with severe bone loss.
Whatever is your problem, we have the individual solution for you.
If you would like to know more about dental implants do not hesitate to ask out team in Clinic Schloss Schellenstein. Our experienced staff can help determine if implants are right for you: What you should know about dental implantology... »
Am Schellenstein 1
59939 Olsberg
Phone: 02962 9719-0
Fax: 02962 9719-22